The coronavirus impacted our ability to deliver the in-person training we are internationally known for. Despite this challenge, we found new and effective ways of supporting war doctors around the world. Here are a few of the things we got up to.
DigiHEST
In December 2020, we piloted our first ever Digital Hostile Environment Surgical Training (DigiHEST) course. We transformed an office space, generously provided by Whitby Wood, into an operating theatre and our friends at Redux Content decked the place out as a recording set.
Over the course of a weekend, David was joined by DNF faculty members Ammar Darwish, Rebekka Troller and Pete Mathew to present an ambitious programme of surgical training that was live streamed around the world. Modules covered included abdominal trauma, neurosurgery, maxillofacial surgery, ballistics and more. David was also joined by special guest lecturers Mounir Hakimi (orthopaedics) and Shehan Hettiaratchy (plastics) to form a world-class team of surgical specialists ready to reach out to surgeons in conflict zones and austere environments.
We were joined by up to 100 doctors from around 29 countries over the course the weekend, who were additionally able to pose their questions in real-time to the presenters and ask for advice on cases presenting to them in their localities.
Webinars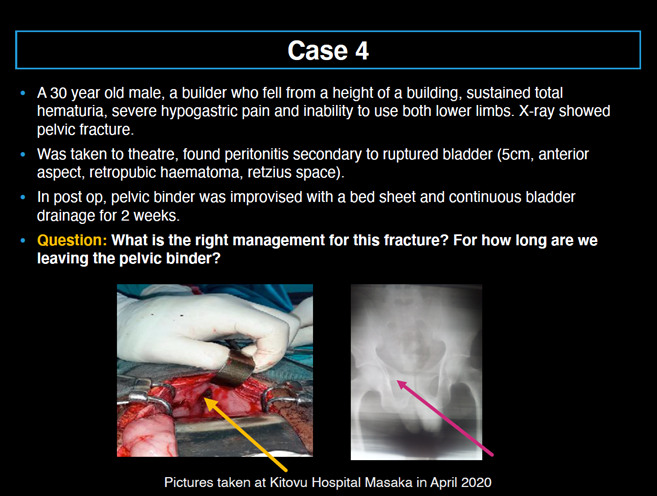 Throughout 2020 (and re-starting in 2021), we ran webinars for doctors in conflict zones. These webinars, led by David, saw doctors submit difficult or interesting cases and discuss together the best course of action for treating individual patients. David and our Faculty also delivered lectures during these sessions.
Creating a global network
Our webinars led to the creation of a thriving online community of surgeons, each able to send photos and submit descriptions of cases for the purpose of collaboration with other David Nott Foundation alumni around the world. This forum has been an incredible thing to witness – rapid surgical feedback and collaboration between doctors in conflict zones.
Despite rising to the challenge of coronavirus, we are delighted that our in-person surgical training has resumed.