On Thursday 30th August, we relaunched our webinar series for doctors. We invite surgeons around the world to share their treatment of complex injuries, some with limited resources in conflict zones. During our webinar, two Ukrainian surgeons shared how they removed shrapnel from a little boy's heart and treated a woman's devastating leg injury using skills learned on our Hostile Environment Surgical Training (HEST) course.
Dr Natalia Romanova from Kharkiv Regional Paediatric Hospital joined our HEST course in Ukraine this June. There, she learned how to treat fragment wounds – injuries caused by flying shrapnel – using our human war wound model (pictured below).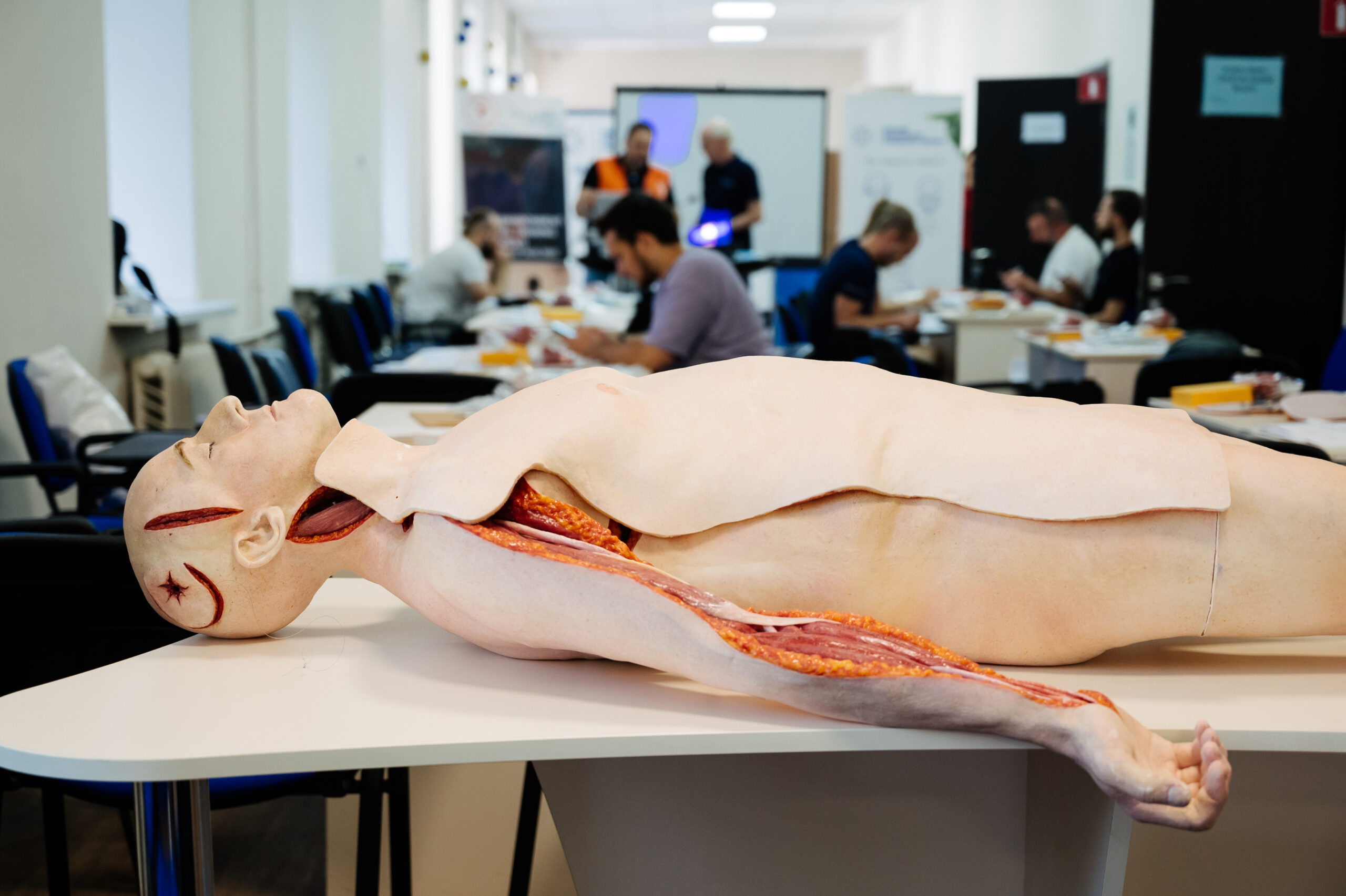 Dr Romanova shared: "Unfortunately, we face mine-blast trauma or penetrating wounds constantly (in Ukraine). Every single day."
Shortly after completing our surgical training course in Kharkiv, Dr Romanova had to put her new skills to the test. A number of children were rushed to hospital after a shelling attack. Metal shards from a cluster munition had penetrated the lung and heart of a 12-year-old boy – fatal injuries without rapid action.
Together, the team performed a thoracotomy and pericardiotomy, opening the chest and heart's sac to find the source of bleeding.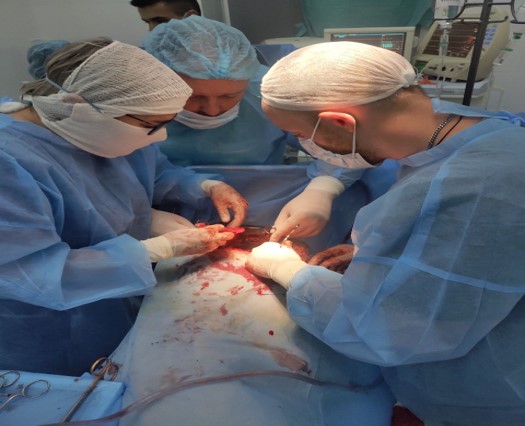 From there, the team removed a blood clot covering a tear in the boy's heart and blocked the hole with a finger. Carefully and swiftly, they repaired the injury using a piece of the heart's sac, before sewing the torn lung back together. Thanks to their speed and skill, Dr Romanova and her team saved the little boy's life.
"I was ready"
Before her team presented this case to fellow surgeons, Dr Romanova felt compelled to contact us and share her delight at saving a life against the odds.
It may be unexpected for you to receive this letter. You might not remember me, but it is the (best) way to express my gratitude and it is my duty to do it.

I am a paediatric surgeon from Kharkiv, Ukraine.  In June, we attended your magnificent HEST course. My colleagues and I are very grateful to you for all the information and skills we gained within those three days of training.

We were not used to work with such cases in peaceful times, so your professional guidance and knowledge are priceless for us now.
Despite never treating a penetrating wound before, Dr Romanova shared: "I was ready." The surgery was successful, and the child was later discharged and evacuated from Ukraine.
After Dr Romanova's team presentation, our Co-Founder, David Nott, said: "Many, many congratulations on such an amazing operation. I was so delighted that you were able to save this child's life. You have done a brilliant job."
Surgeons also heard from Dr Ivan Parkhomenko during the webinar, a junior doctor trained by David and other faculty members in Ukraine earlier this year. Dr Parkhomenko described how he's "starting a little revolution" in his hospital, sharing the skin grafting technique he learned on our course with senior consultants and junior doctors alike.
A global community
We're committed to continuing to grow our global network of doctors and creating a supportive space for the sharing of surgical knowledge.
If you are a surgeon who would like to receive information about our courses or contribute to one of our webinars, please get in touch.