This month, we were honoured to train 14 doctors from Afghanistan, Syria, Palestine and Ethiopia on our latest Surgical Training for Austere Environments (STAE) course. Over five days, the group participated in bespoke surgical workshops, specifically designed for treating traumatic – and often unique – injuries caused by war and catastrophe. 
Starting the week off in Brighton and Sussex Medical School, the participants practiced an extensive range of cardiothoracic procedures, such as fast and efficient thoracotomies (gaining access to the chest), heart repairs and how best to manage injuries to the lungs.
Aided by videos taken by our Co-Founder, David Nott, during overseas missions, the group also learned how to repair blood vessels – a vital skill for managing severe blood loss.
Equipped for every emergency
As the week progressed, every doctor was exposed to a different but equally vital field of medicine, from plastic surgery to orthopaedic trauma. This is key, as we know war and catastrophe can present patients with often varied and complex injuries.
In conflict for example, it is not uncommon for junior doctors to be the only healthcare workers left in hospitals. This means they need to step into a number of roles, from cardiothoracic surgeon one day to paediatric specialist the next.
New obstetric simulators
On the last day of training, the participants completed a range of obstetrics workshops in the beautiful new facilities of the Royal College of Obstetricians and Gynaecologists in London. Using our new simulators (pictured below), the group refined their C-section techniques and learned how to address emergency scenarios, such as breech births or neonatal resuscitation.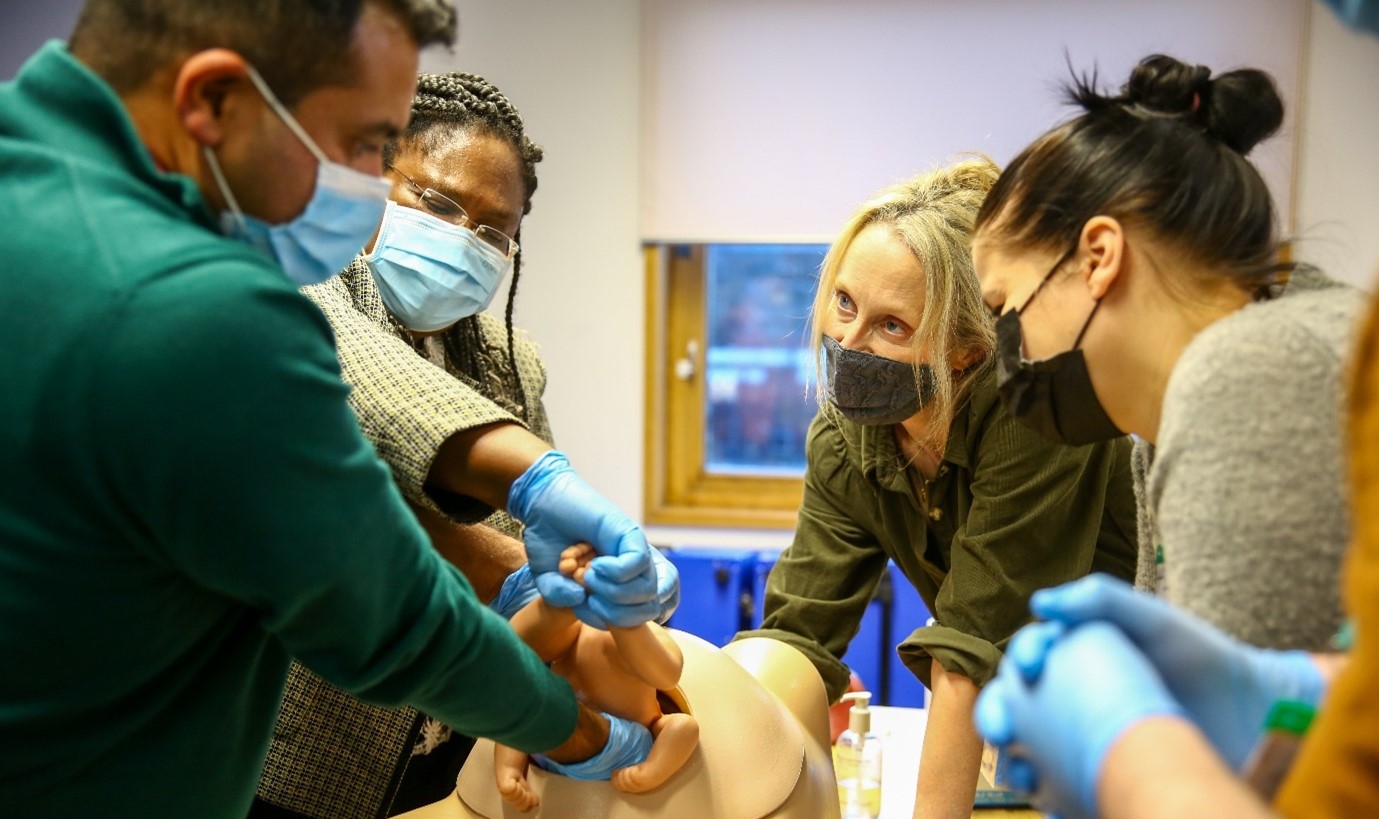 Listening and learning
We were honoured to be joined by doctors from Palestine, Syria, Afghanistan and Ethiopia, and each country is recovering from – or still facing – conflict. To ensure we continue to deliver the highest quality training and meet the needs of our doctors, we listen to participants' experiences of their home countries.
Dr Naseebah Nayef left Syria in 2013. She shared with us: "(During the war) I treated Syrian protestors in my private practice. Post-that, my house was bombed, and I had to flee with my three children from Syria.  I am so very, very grateful for being a part of this course."