Doctors Supporting Doctors
Through the extraordinary dedication of three doctors, Keiran Macleod, Elliott Taylor and Richard Elston, a total of £2,500 has been raised to help us train more doctors working in austere environments. Together, they have cycled 2,000 miles in two epic cycling trips and raised more than £1 per mile!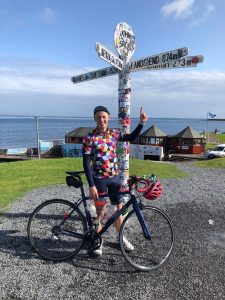 Keiran and Elliott were studying medicine at St Andrews and found themselves graduating at the same time that David received his honorary degree. Totally inspired after hearing about his work, they decided to take on the North Coast 500 Challenge in Scotland in August. As if cycling 500 miles each wasn't enough of an ordeal in itself, they carried everything on their bikes and camped each night.
Meanwhile, also starting out in Scotland, Richard and four others began their epic journey cycling from John O'Groats to Land's End.  Richard tells us why he chose to do this for the Foundation: "This cause is especially close to my heart.  Working in the NHS, I am always amazed at the speed with which huge resources and expertise are mustered to help anyone seriously unwell, regardless of their age, social standing or race. Sadly, this parity of healthcare does not extend across the globe to those who need it most. However, a small contribution could help train one surgeon and in turn save hundreds of lives. Civilians are mercilessly targeted as conflicts become more asymmetrical and belligerents turn to unconventional weapons, causing complex injury patterns for an overwhelming number of patients in an already challenging environment.  Local doctors who work incredibly hard however, often lack the advanced training to save patients who could survive."
To help us train even more doctors working in war zones, donate here today.