In December, we were delighted to be invited by the Royal College of Surgeons of Edinburgh (RCSEd) to attend the AFSM Tripartite Conference 2022 in Borneo, Sarawak. We upskilled 42 doctors and medical students during a condensed, one-day Hostile Environment Surgical Training (HEST) course.
Faculty Lead: Dr Pete Mathew. Faculty Trainers: Dr Una Walsh, Dr Ankur Thapar and Dr Pippa Letchworth. Programme Support: Christie Norris.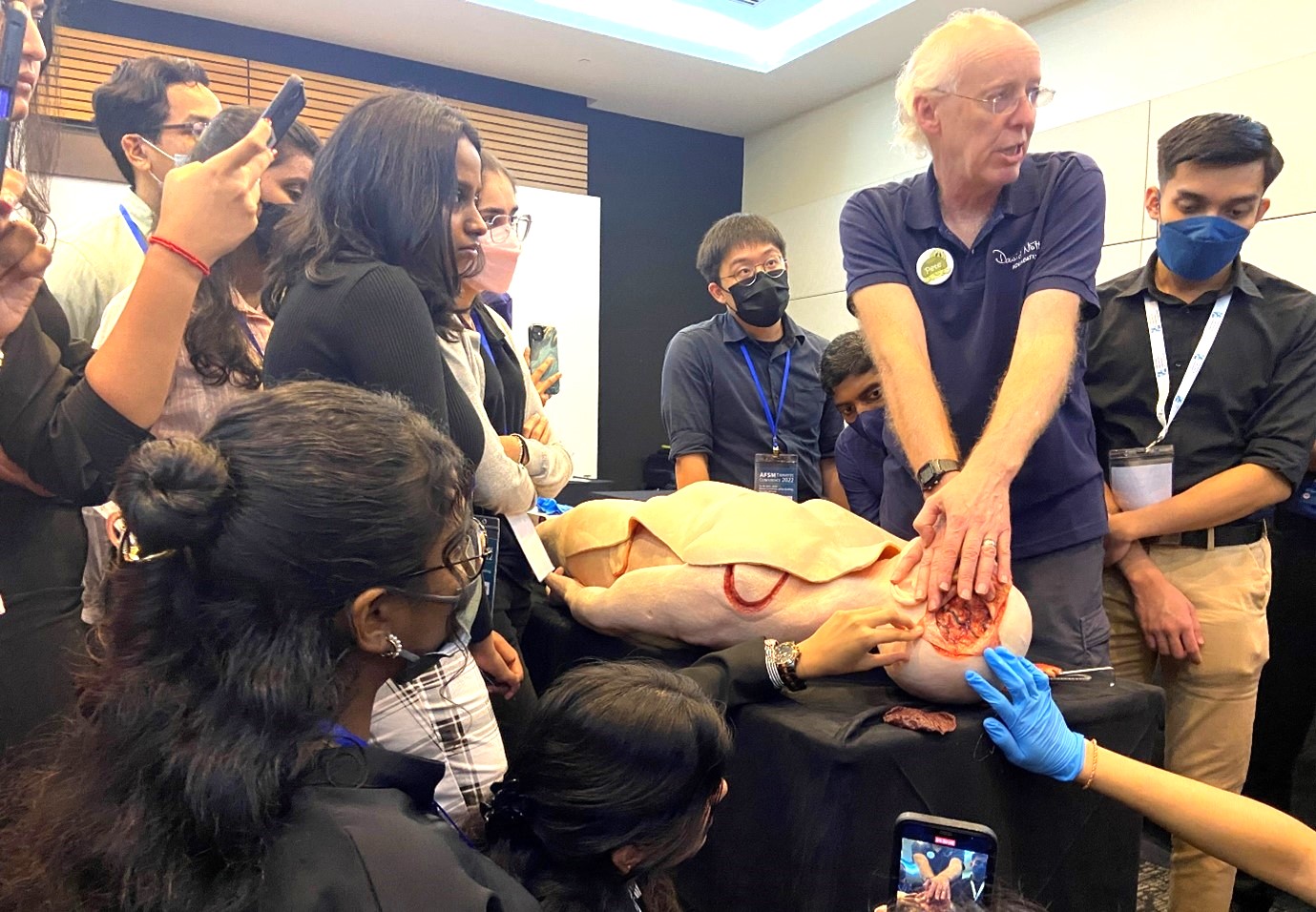 The Academy for Silent Mentor (AFSM), RCSEd, College of Surgeons Academy of Medicine of Malaysia (CSAMM), and the Ministry of Health of Malaysia (MOH) joined forces to develop a comprehensive 3-day conference program on healthcare challenges in the 21st century.
Our Faculty Lead Dr Pete Mathew (right) delivered a lecture to conference attendees. He shared details of his experience as a neurosurgeon, working to save lives in conflicted countries such as Afghanistan and Iraq with the Royal Air Force, and volunteering with humanitarian organisations such as the International Committee of the Red Cross before joining our team as a surgical trainer.
Wounds seen in war
The following day, we delivered a condensed version of our Hostile Environment Surgical Training course to 42 participants covering damage control, cardiothoracic and vascular surgery, maxilla-facial trauma, plastics, and obstetrics and gynaecology.
Using our human simulator model, Heston (below), the group got to grips with a range of injuries commonly seen in conflict and mass emergencies, such as penetrating head wounds and shrapnel injuries.
They manoeuvred skin flaps on Heston's body, practicing how to cover blast injuries and encourage healing, and performed lung twists in Heston's open chest to stop severe haemorrhage.
We also used our new, state-of-the-art birthing simulators to allow attendees the opportunity to experience how to manage challenging deliveries, such as obstructed labours, breach positioning, or C-sections.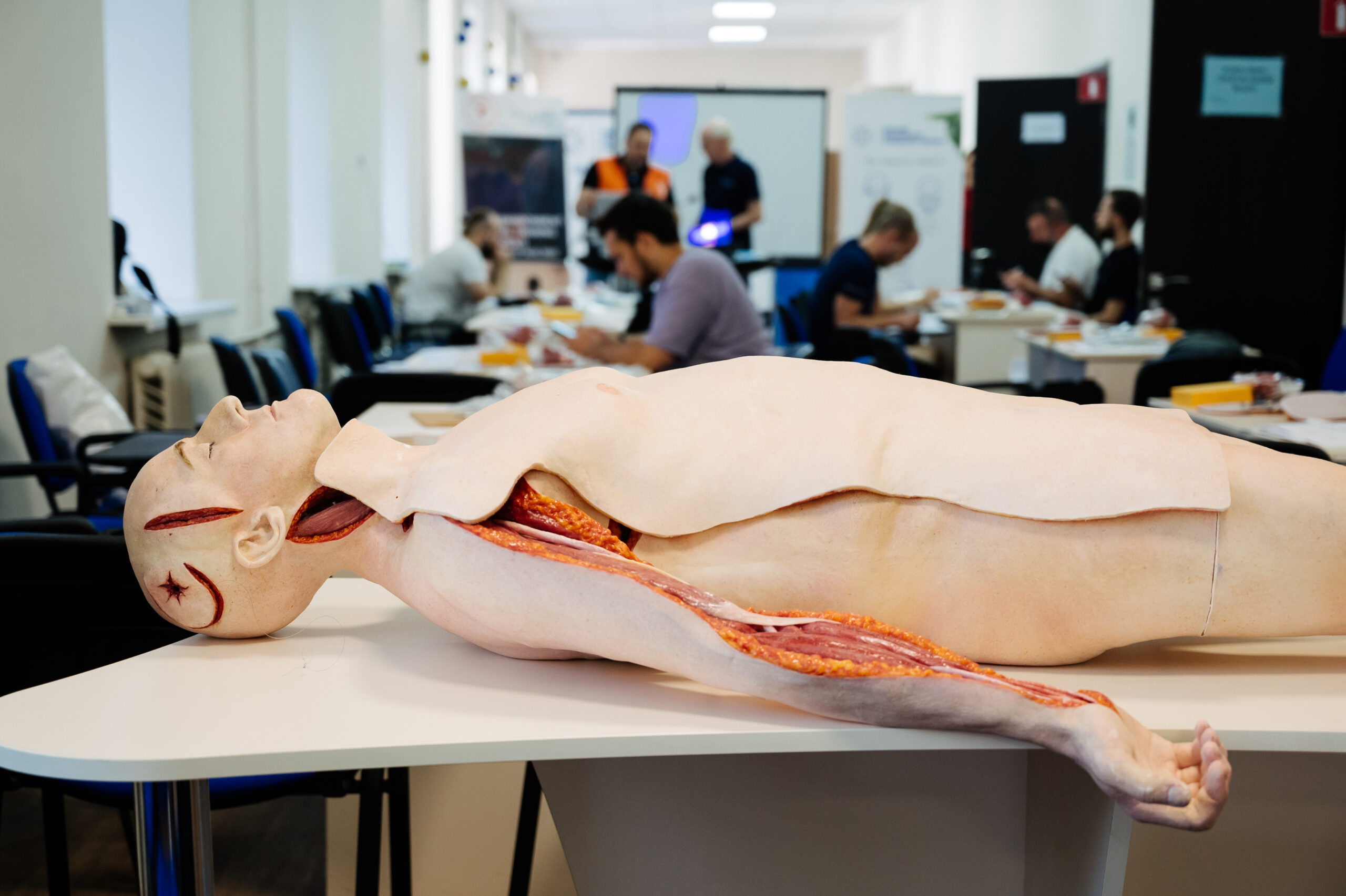 Care without boundaries
Rural communities in Sarawak often have limited access to healthcare due to their remote locations. For some, it can take many days to reach hospital facilities. Outstanding local charities such as Mercy Malaysia and Andante coordinate regular medical and dental visits to communities in urgent need, thanks to the generosity of trained volunteers.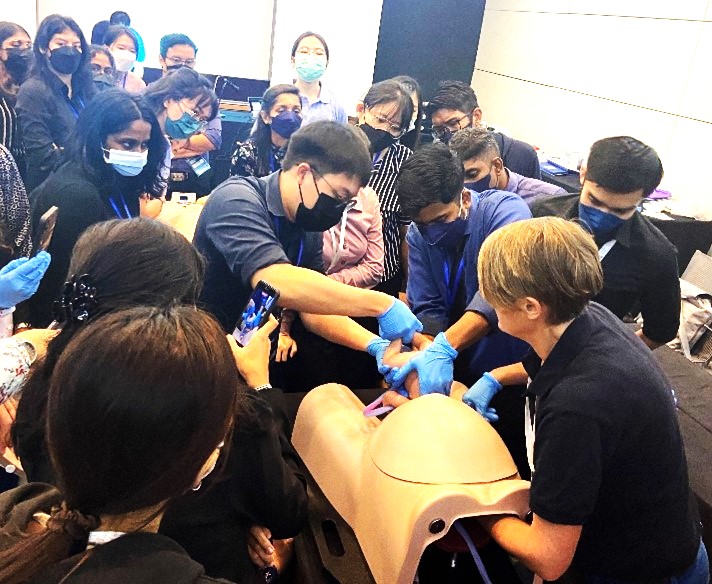 Basic clinics have also been built in hard-to-reach regions, with the goal of ensuring expectant mothers receive better care. Outreach doctors who take part in our comprehensive obstetrics training could have a significant – and potentially life-saving – impact in rural communities.
Professor Angus Watson, Consultant General and Colorectal Surgeon and Chair of the Research RCSEd Committee, said:
"Having an internationally renowned charity, like the David Nott Foundation, delivering their highly acclaimed course to healthcare providers in Malaysia, was one of the highlights of the conference.
The feedback received from course participants was very good and we hope this is the start of a highly productive global partnership between the Royal College of Surgeons of Edinburgh and the Foundation."
Speaking of our training, a medical student from University Putra Malaysia who attended the course, said:
"Me and my medical peers participated in the Hostile Environment Surgical Training (HEST) during the conference. We were deeply amazed by this course. It gave us very different exposure from other courses we've been to."
We look forward to exploring future courses in Malaysia and thank the RCSEd for their invitation.